won't heal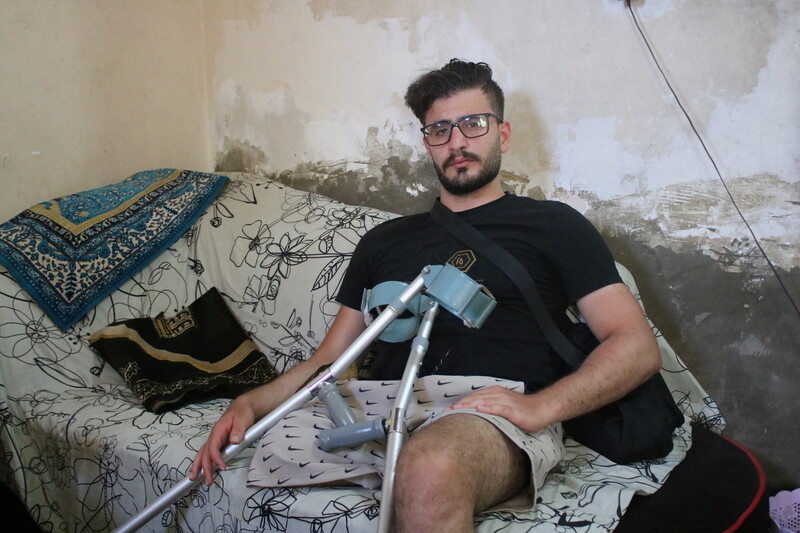 Over five years have passed since an Israeli sniper shot Muhammad Hussein in the knee.
On 11 May 2018, Hussein was participating in the Great March of Return in Rafah, in the southern Gaza Strip.
Thousands of Palestinians had been gathering every Friday at the boundary with Israel since March 2018. The protesters sought to claim their right to return to their land, which was taken by force by the Israeli occupation in the 1948 Nakba.
Hussein was filming the march as part of a university project.
Then, an Israeli sniper shot a young man in front of Hussein.
Hussein was in shock. A few seconds later, he was also shot.
He fell to the ground, in pain. The wound started bleeding profusely, and Hussein passed out as the paramedics were treating him. He was taken directly to the emergency room at the European Gaza Hospital in Khan Younis, where he underwent an eight-hour operation.
After the surgery, Hussein was optimistic but still in pain.
"I thought I had recovered from the injury and that I would be able to walk again soon," Hussein said.
After two weeks in the hospital, the doctors decided to amputate Hussein's leg from above the knee, as they discovered inflammation and gangrene in the area of the injury.
Initially, Hussein and his family were so shocked that they refused the operation.
But it was the only option.
The day after the amputation was Hussein's 20th birthday.
"I can't forget how I felt that day. I was supposed to be spending a happy day with my friends and family," he said. "Instead, the Israeli occupation turned it into a day of pain and grief."
Never-ending infections
The UN monitoring group OCHA estimates that over 35,000 were injured during the protests, from March 2018 to November 2019. Among those injured, nearly 8,000 were shot with live ammunition.
Médecins Sans Frontières (MSF) described those gunshot injuries as "devastating" and "of an unusual severity," noting that doctors were observing "an extreme level of destruction to bones and soft tissue, and large exit wounds that can be the size of a fist."
About two weeks after the amputation, Hussein started to experience severe pain in the area of his injury. At the hospital, the doctors discovered a bacterial infection and performed an emergency operation to control it.
Dr. Fadel Naim, a consultant orthopedist in Gaza City, said that Gaza lacks the equipment needed to diagnose bacterial infections, due to the Israeli blockade.
Such laboratory equipment can detect and determine types of bacteria so doctors can prescribe the necessary antibiotic. Without the equipment, infections only worsen.
Over a thousand Palestinians in Gaza experienced bacterial infections in their gunshot wounds, according to MSF, and many of these infections are resistant to common antibiotics.
According to Naim, many infections did not respond to any of the antibiotics available in the Gaza Strip, and they had to resort to amputation as a last resort to stop the spread of infections.
But, in many cases, even amputation was not enough.
Wounds that won't heal
Over five years, Hussein has undergone three amputations, but they have all failed to stop the infection. Today, only a few centimeters of his leg remain, and the infection continues to spread.
"The doctors told me that if the infection spreads to the pelvic joint, it could be life-threatening," Hussein said.
In 2019, he applied for a permit to travel for treatment in hospitals in both Jerusalem and the West Bank, but the Israeli authorities refused his request.
"After every surgery I had, I had hope that my wound would heal and my suffering with the injury would finally end," he said. "I was disappointed and devastated every time."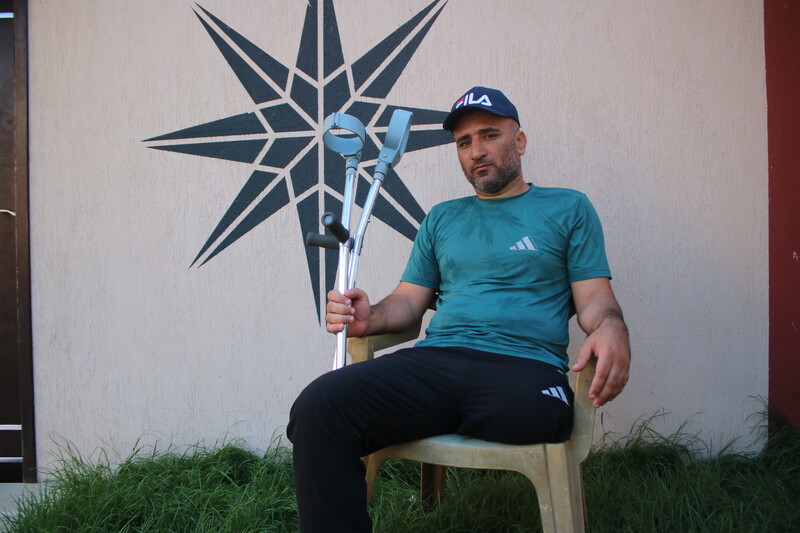 Khamis Fojo, 33, has experienced a similar sense of devastation and disappointment since an Israeli sniper shot him on 27 July 2018 during the Great March of Return.
He was over a kilometer from the boundary fence when he was shot above the knee. The bullet caused severe internal bleeding, and Fojo was in a coma for two weeks at the European Gaza Hospital.
"The last thing I remember before I passed out is the sound of a bullet," he said. "It sounded like an explosion."
"I thought I was going to die."
Due to the severity of his injury, doctors amputated Fojo's leg.
Six months after the amputation, he developed a fever and felt intense pain in his leg. A bacterial infection had developed.
Antibiotics were not enough to stop the infection, and surgery was the only option. Over the past five years, Fojo has undergone 18 surgeries, including eight amputations.
"Despite all the surgeries, my injury kept getting worse and more painful," said Fojo, who lives in Rafah with his wife and four children.
"I still live in pain every day, especially at night," he continued.
Fojo recently stopped taking painkillers, as they are no longer effective.
The Israeli authorities refused to grant Fojo a permit to travel for treatment in the West Bank or Jerusalem. He was rejected more than 10 times for a permit to enter Egypt until finally, in 2022 and 2023, he was allowed to travel there.
"The Egyptian doctors were shocked to see how bad my injury was," he said. "They told me that they had never seen a case like mine before, and that the weapons that caused my injury should be internationally banned."
Mental toll
Before the injury, Fojo was an active person, but now, he experiences anxiety and is quick to anger. He rarely leaves the house.
Muhammad Hussein has endured similar bouts of depression. "It was difficult for me to accept and cope with my disability and my constantly deteriorating injury," he said.
Yet he obtained a degree in multimedia studies from Palestine Technical College in Deir al-Balah in 2021. And, eventually, he returned to weightlifting and physical training, but these are not activities that he can do with regularity.
As his infection spreads throughout the remainder of his leg, he has to take breaks for surgeries and to rest.
In 2021, Hussein undertook the necessary steps to get fitted for a prosthetic leg from Hamad Hospital for Rehabilitation and Prosthetics in Gaza. But the nerves in the injured leg still cause it to involuntarily twitch, especially during the night, which is frightening to Hussein.
Due to the bacteria spreading to the bone and the constant pain, a prosthesis was not possible.
Abdallah al-Naami is a journalist and photographer living in Gaza.