16 February 2023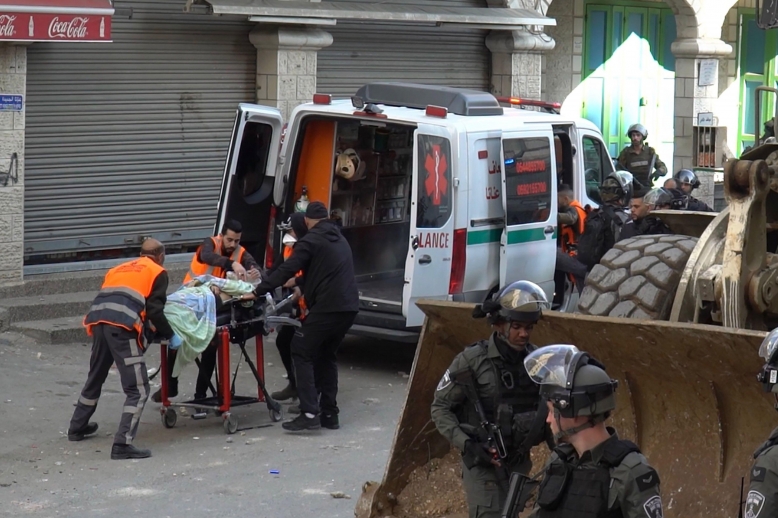 International law requires that health workers operating in occupied territory be permitted to conduct their life-saving work without fear of attack or obstruction. Violations against Palestinian healthcare workers and facilities, however, have long been a feature of Israeli military violence in the occupied Palestinian territory.
In 2022 alone, 105 health workers were injured, including by live ammunition and rubber-coated steel bullets, 77 ambulances were obstructed from accessing the wounded and 44 were damaged. This trend sadly persists in 2023. From assaults against medical teams to the obstruction of ambulances, the health and wellbeing of staff and patients is being put at risk.
The Palestine Red Crescent Society (PRCS) documented 11 violations against their medical teams in the West Bank in January alone. Israeli soldiers delayed or denied PRCS medical teams from reaching injured Palestinians 10 times and – on 13 January in Beit Ummar [Hebron] – fired rubber-coated steel bullets which damaged one of their ambulances.
During the recent Israeli military raid on Jenin refugee camp, which killed 10 Palestinians including a 61-year-old woman, all six of the PRCS ambulances that responded to the emergency were prevented from accessing the camp. "Two hours later, and in light of the increasing numbers of casualties and injuries, our crews were allowed to enter after coordinating through the International Committee of the Red Cross. As we moved into the camp, we still experienced warning shots near the ambulances," said Azzam Nimer, Head of the Emergency and Ambulance Department at PRCS.
"Israeli forces allowed our medical teams in after they made sure that many of the injured lost their lives. This is not the first or last time that Israeli forces will impede the access of medical teams and wait until the injured bleed to death."
"We expect cities to be closed and an influx of injuries at any moment"
As well as escalating violence, Israeli forces have further restricted Palestinians' freedom of movement, including health workers and patients, and even closed off cities completely. In occupied East Jerusalem recently, PRCS medical teams faced prolonged inspections by Israeli forces at checkpoints, delaying their access. This threatens the lives of patients for whom every minute counts.
On 6 February, Israeli forces shot dead at least five Palestinians during a raid on the Aqabet Jabr refugee camp in Jericho, which was closed off for more than a week. PRCS medical teams were prevented from reaching the injured and their ambulance came under attack.
This follows a previous Israeli military raid two days before, where PRCS reported that their ambulances were blocked from treating the injured Palestinians, including three Palestinians who were shot with live ammunition.
Then, on 13 February, an Israeli military vehicle was filmed blocking PRCS paramedics from helping Palestinians injured during an Israeli military raid in Nablus, which killed one Palestinian and injured seven others.
"Given the situation in the West Bank now, we expect cities to be closed and an influx of injuries at any moment," said Azzam. "We are now treating each city as an isolated territory. I have to make sure that each city has a separate warehouse with enough emergency disposables and medications that can last for three months. The Israeli army can just close a city for weeks, like [last year] in Nablus, and this makes our medical response very complex."
In the neighbourhood of Shu'fat, in East Jerusalem, PRCS also reported how their emergency teams recently faced delays and hostility from Israeli forces. Soldiers demanded to see their ID cards and interrogated them over the cases of patients they were trying to respond to.
Palestinians are segregated by an ID system, meaning those with a green West Bank ID must obtain a permit from Israeli authorities to cross the separation wall and access East Jerusalem. According to PRCS, paramedics who have West Bank ID cards have recently been barred from immediate entry into Shu'fat refugee camp, despite having permits that allow them to cross any other checkpoints.
The ID system has also impacted patients. Injured Palestinians or their family members have opted to take private cars instead of ambulances, as they fear that being in an ambulance and facing interrogations and ID checks could delay their journey to emergency care.
In 2021 and 2022, Medical Aid for Palestinians (MAP) provided two fully-equipped ambulances and a field hospital tent to the PRCS in East Jerusalem, as well as other essential supplies and equipment. We have also provided primary trauma care training for PRCS paramedics. But, as Israeli military and settler violence continues to occur on an almost daily basis, the PRCS needs more medical supplies, equipment and ambulances to respond to increasing violence.
But as well as urgently responding to the critical health needs, Azzam says urgent action is needed from the international community: "Even if we have all the requested needs, we will still face the obstacles and violations against our teams that come from working under occupation. We need your support to protect our health workers and ensure Israel is held accountable for violating their basic rights so that they can continue to save lives without coming under attack."